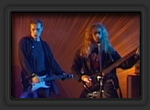 The end of The Hague's underground stage is in sight: Bazart will close its doors on July 1, 2013. As Bazart writes on their website:"But we're obviously not just quietly going to disappear, we're going out with a BANG!"
Bazart organizes a record attempt of no less then 100 (!) bands in 24 hours. "A worthy ending for 13 years of service! Under the guise of "going out with a bang", what could be better than to say goodbye to the Hague music scene with a new record?"
Rise of Realism of course love to play for this special occasion, and will do so, for this time, in the original line up! As a duo Andreas van Amerongen and Robert Hugo Moorman will take the stage on the prime time of 5 AM in the morning and startle the probably quite intoxicated audience with a super tight set of 15 minutes.
It promises to be a very special night for both Bazart as for the Rise.
The marathon starts on Friday June 7 on 20:00 and ends on Saturday June 8 on 20:00.
Rise of Realism scheduled to start at 5 AM.
Oh, and admission is free!
More information can be found on:
http://www.bazart.nl
http://www.bazart-bandmarathon.nl