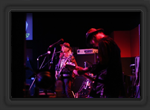 Nice review on the 3 voor 12 website.
It roughly translates as: 
"Symphonic hard rock from Amsterdam since 1995. The basis of the band is formed by Robert Hugo Moorman and Andreas van Amerongen and, although the band is nowadays a quartet, Rise of Realism perform tonight as a duo. In old rocker outfits, complete with cowboy hats, the men show visually and musicaly - bass, guitar and drum machine - how this should be done. "
Well, we had a blast as wel! !
Source and photo (c) 3voor12.vpro.nl/Ramond Jaggessar